Jenna Wolfe Shapes Up your Fitness Priorities and Empowers you with the Motivation you Need to Workout Now from "Should Do" to "Must Do"
Hot off the heels of her long time career at The Today Show, fitness and lifestyle on-air personality and expert, personal trainer, mom and Author Thinner in 30: Small Changes That Add Up to Big Weight Loss in Just 30 Days, shares her tips on how to get it all done, no excuses!
You Can and You Will
by Jenna Wolfe
If you live in a cold-weathered state, 'winter' can be an easy excuse.
"I can't run outside so I won't workout"
"Too cold to walk/drive to the gym so I won't workout"
"I'm stuck in my house all day so I won't workout"
Look, I get it. It's not easy to get motivated everyday. Sometimes it's nice to stay under the covers and hope that fitness happens to you. I'll let you in on a little secret. It won't. I'm a working, running, moving, jumping, lifting, lugging, going, sprinting, texting, parenting, training mother of 2 little babies. My day starts before sun up and ends after sundown. If I gave in to every excuse, every lazy day, every exhausted morning, I'd probably be a piece of lasagna today (Lasagna seemed like the laziest food I could think of).
We're constantly doing things we may not always enjoy… going to the dentist, working weekends, enduring the cold to get the kids to school. Why do we do it? Because we have to. It's not an option. It's on our MUST-DO list. We must brush our teeth. We must shower. We must make breakfast for the kids. We must finish that project for our crazy boss at work.
The other, less popular list (the list which didn't go to prom) is the SHOULD-DO list… We should workout. We should eat well. We should go to sleep earlier. But we don't take this list seriously, right? We only work off the MUST-DO list, even though both are equally important. You may not see the consequences of failing to do things on your SHOULD-DO list today, but you will down the road, trust me
Make it doable by setting yourself up to succeed. I take my 2-year old to school every morning at 8:45. I could easily take the bus or a taxi but we walk (I walk. She enjoys the stroller). I then leave the stroller at school, jog back home and go straight to the gym. No room for excuses.
I knew this morning I wouldn't have time to do a full 60 minute workout, so I carved up that 60 into a few minutes here and there throughout my day. My morning alone looked like this:
Making coffee: 2 sets of 30 squats
Playing with the kids before school: 5 sets of 30 mountain climbers
Waiting for shower to heat up: 2 sets of 20 push ups
Would it have been easier to just succumb to the schedule and forgo the exercising? Of course. But nobody every succeeded at anything by forgoing the exercise. (Can you tell my parents that?)
We're all busy. We're all juggling 'life'. We're all doing the best we can. I get it. But all it takes is a few easy swaps here and there to make a difference. So I collected 30 of my best diet/fitness tips and wrote them into my new book, Thinner in 30 (30 small things you can do everyday which add up to big change).
It's out now. Check it out… and follow it up with short, equipment-less workouts on my website, jennawolfe.com
Bottom line, if you want your life to change, you have to change your life.
You can, and you will.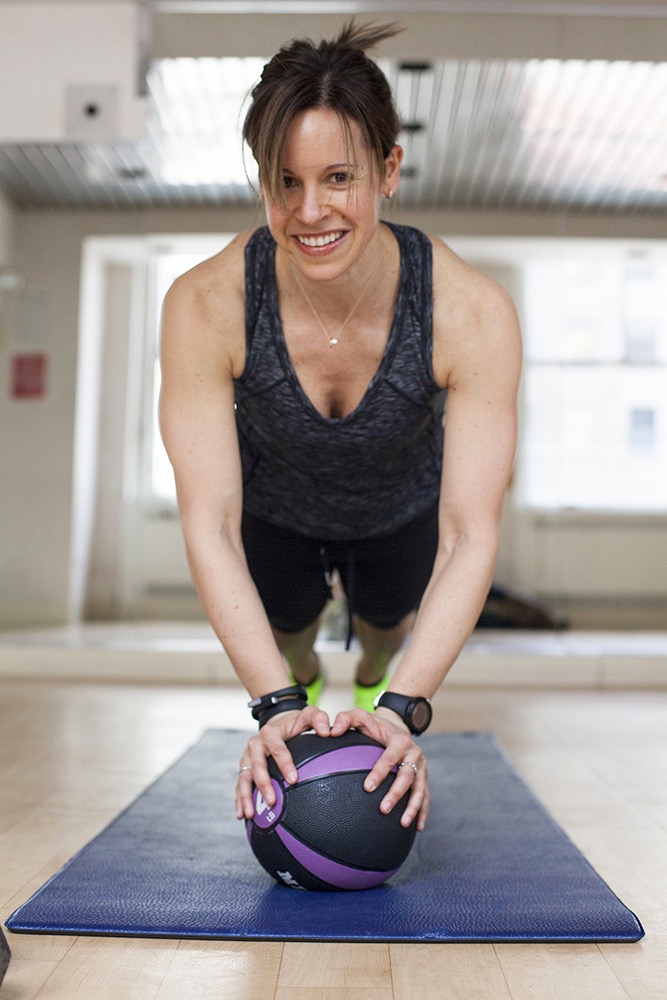 Jenna Wolfe is a certified personal trainer, health and wellness expert, and (most challenging of all), mom to 2 little girls, Harper and Quinn. Most recently, she was the first ever lifestyle and fitness correspondent on NBC's Today show. Prior to joining NBC News in 2007, the self-proclaimed daredevil and thrill seeker spent 12 years as a sportscaster. When she's not running (and squatting and lunging and bear-crawling) a million miles an hour in one direction, she's usually (and happily) doing it in another. Jenna lives in New York City with her partner, Stephanie Gosk.